Tuesday, March 24, 2009
Activating your customer base with digital tools
Great advice
in the
April issue
of
Fast Company
from
Chris Hughes
, co-founder of Facebook and a key player in building Obama's massive online community last year.
Linked here
are
five great examples
of how Obama (with Hughes's help) set new standards of measured success online.
An example:
Take Customers' Online Feedback Seriously

When a big group of Obama supporters revolted during the campaign over his vote on wiretapping, the candidate neither reversed his position nor ignored the naysayers. He penned a direct response and posted it online. "People now expect to be able to communicate their concerns with you," said Monte Lutz, SVP of digital public affairs for Edelman. "If you respond, they'll keep coming back to you."
Wednesday, March 11, 2009
Best business card design ever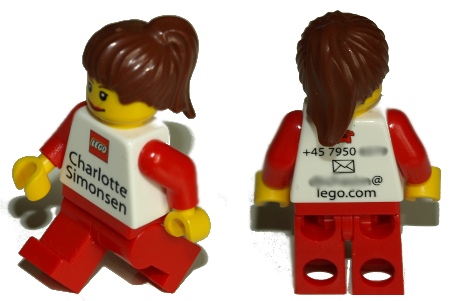 It's remarkable, creates word-of-mouth, and combines personal info with a product sample.
Awesome
.
Monday, March 09, 2009
Managing Creative People
Jeffrey Katzenberg
recently shared his four top strategies for keeping top creative employees happy and productive at
Dreamworks Animation SKG
in a short article in
Fortune
magazine.
As I read his tips, I couldn't help but think that they apply to not just design and copy creatives, but also tech creatives as well. Each of these tips can work to keep your technology, IT and development teams motivated and productive.
Create a haven.

Artistic people tend to be more vulnerable. From the outset, our hope and our ambition was that we could create a safe place where any ideas are welcome, and failure is okay. We only can succeed when what we do is original.
Tell people a story about themselves.

We're not firemen climbing into burning buildings. We're storytellers who are trying to give people a good laugh.


Celebrate often.

When a movie opens, when a DVD comes out, or when awards are won, all of those milestones are celebrated in a big way.


Treat departing employees well.

We try to be generous when someone has an opportunity outside the company, because we usually want them back. It's more important that there be a red carpet for valued people when they leave than when someone joins.
Creating opportunities
Tomorrow is
free resume printing day
at
FedEx Office
. With a single smart idea (and a few boxes of cheap paper), they're getting great PR and making a ton of job seekers happy. It's a small gesture, sure, but it makes a ton of sense and is almost guaranteed to generate new business and incremental revenue.
What are you doing for your customers? How are you showing love to potential future customers (even if they don't have money to spend today)?
Sunday, March 08, 2009
Making money with Twitter
Can you make money with
Twitter
? Depends on what you do, and what you have to sell.
Good story last week
here
about
Amazon.com's use of Twitter
to announce new product and special prices in different categories. I must admit, I've been tepid on Twitter from the beginning, but this is a very smart use of Twitter as a direct marketing tool that costs next to nothing, and I'm sure provides Amazon with measurable sales lift.
Are you using Twitter as a direct marketing or selling tool? if so, how? Please share your experiences (good and bad) in the comments so others can read and learn.
Monday, March 02, 2009
Keeping Sales Productive in a Recession
Fortune Magazine
's "Three Minute Manager" column recently featured some sage advice for keeping sales teams productive in a difficult selling environment. I couldn't find a link to the column directly, but wanted to share some of the great suggestions here.
From Robert YoungJohns, president of North America sales & marketing for Microsoft:
Don't underestimate the amount of pressure your customers are under. Show how your product can offset the cost pressures they face.


From Steve Waterhouse, author of
The Team Selling Solution
:
Make sure you're selling to the right person. In a tight market, the buying power shifts up. The buyer who could spend $10,000 a year ago now has no power. Salespeople need to build relationships with higher-level contacts.


From Tom Tierney, SVP of U.S. commercial card sales at American Express:

You have to motivate the troops. Financial motivation is often what drives them, but just as important, especially now, is recognition.

Why shop local?
I've been asked by a local newspaper to write a column explaining why local shoppers should give their business to neighborhood merchants before driving to big malls and national chain retailers.
I can think of many reasons why shopping local is a better alternative (save on gas money, better service, etc.), but I'm wondering what you (shoppers and merchants alike) would say.
If you're a shopper, why do you shop local? Do you "go out of your way" to support local businesses - retailers, service providers, restaurants, etc.?
If you're a local business, help me make a case to your prospective customers. Why should shoppers visit you instead of the big mall, or a national chain?
Please share your perspectives and ideas in the comments below, or feel free to
email me directly
.
Win Free Customers Tip #4: Start a Newsletter
This is the fourth in a series of recommendations focused on helping small businesses win more customers for FREE, largely using the resources you already have.

This tip focuses on

newsletters.
Many of your current and prospective customers will visit your Web site and blog often. Many won't. But that doesn't mean you'll lose touch with them.
Take your content, and put it in a newsletter! Email is an ideal medium to communicate with people you already have relationships with. It keeps you top of mind, and will generate new business on a regular basis. What's more, emails are easily transferable, meaning they'll quickly be passed along to friends & family if your content is good.
Even better, starting a newsletter doesn't mean writing new content. It just means repurposing the content you already have!
Take my newsletter, for example. You can check out a sample, and sign up directly, right at http://www.heinzmarketinginsights.com. This newsletter is populated largely with content I've already written on my blog. Each month, when I prepare a new issue of the newsletter, I simply go to my blog and choose the content I like best, then put it into my newsletter.
Sound hard? Not at all (if you have the right tools).
For your newsletter, I highly recommend a company called Constant Contact. There are many companies that will create and send newsletters for you, but for the price and impact, my money is with Constant Contact.
Constant Contact offers a wide variety of email and newsletter templates to choose from, and makes it very simple to cut and paste your content and links directly into their templates.
Once you send out a newsletter, you can see how many of your recipients read the newsletter, how many clicked (and what they clicked on), and much more.
Constant Contact even creates a newsletter sign-up form for you, so you can generate even more newsletter subscribers directly from your Web site and blog.
If you already have a database of customer email addresses, then you're ready to start creating and sending newsletters today.
If you don't yet have customer email addresses, you're still closer to starting a newsletter than you think! Here are a few tips for getting more email addresses:
ASK:

Simply ask every customer, every prospective customer, even suppliers and vendors for your business, for their email address. Tell them you'd like to send them a new newsletter you're starting up. A handful may decline the offer, but most will say yes – especially if they already have a relationship with you. Ask as many people as possible. Even if they themselves aren't direct prospective customers, they may have friends and family that are!

New Customers:

Every time you get a new customer, complete a transaction or service, ask for their email address. Include a sign-up form at your point of sale. Even if their first visit is simply browsing, ask for their email address to keep in touch. Again, some will say no, but more will say yes!

Giveaways:

Remember those giveaways you created earlier? Offer them in exchange for an email address. Attend a local farmer's market, and do a drawing for a large prize in exchange for email addresses. Be creative!
For each of these tactics, it's important that you get the person's permission to send them email. If you're just collecting emails without permission, then you're only spamming people – no way to build a business. But if you get permission, you also get anticipation - anticipation for the information you're about to send via email, and better readership and action on that email as well.
Despite changes in email laws and consumer behavior in recent years, email can be one of your most powerful marketing and publishing channels back to consumers. Make sure you're using it to its full advantage to get a wider audience for your content, and driving more traffic back to your business.