Wednesday, June 23, 2010
Your target buyer may not be the most obvious buyer
If I ran a bath & body shop, I'd probably market hard to men.
I wouldn't create products for men. But I'd work hard to get them to come and buy from my shop. I'd make it super-easy for them to delight their wives, girlfriends, daughters, sisters, mothers and other important women in their lives.
I'd launch a wish list that my female customers could fill out and keep on file (both at the store and online) so that men could come in, see what they want, and make an easy selection. Easy. Done.
Men know that the important women in their lives use and want this stuff, but have no idea how to shop for it. They're intimidated by the sheer thought of walking into such a store.
Make it easy for them, demonstrate that you can offer a quick translation and quicker purchase that's guaranteed to be a winner, and you just made a regular customer.
The most obvious customer for a bath & body shop would be women. But think about who buys for the buyer. That segment is typically far less tended, there's typically far less competition to reach them, and they're far more likely to engage and respond when you talk to them.
Tuesday, June 22, 2010
Using social media to find and close business
I had a great time with a full room of business leaders & owners this morning for the first of the
Puget Sound Business Journal
's new
Biz Dev Seminar Series
.
For those who were both in attendance as well as those who couldn't make it,
here's a copy
of the
presentation deck
as well as the
content development editorial calendar template
and
social media daily punch list
we discussed.
Thursday, June 17, 2010
Heinz Marketing is growing (and hiring)
We've been blessed with some awesome clients, projects and experiences so far in 2010, with more opportunities awaiting us in the months ahead. And in order for us to help more businesses accelerate their sales & revenue growth, we need world-class people to get them there.
So we're hiring. Right now we're looking for 1-2 people to join the team. Do you know people we should talk to? Are you one of them?
Here's what we want:
Marketers passionate about driving real, measurable revenue results
High-integrity individuals who treat their client's business as their own
People who are both analytical and creative, with a bias for action, that focus on results over activities
Individuals who enjoy a challenge, who want to learn and innovate on a daily basis, and are comfortable with change
Smart, hard workers who know that everything, sooner or later, is measured by its impact on sales, revenue and customer growth
If this sounds like you, or someone you know, I want to hear from you (or them). Send me an email with a resume and/or LinkedIn profile, but also tell me (in a few short sentences) why you reflect or resonate with the statements above.
Wednesday, June 16, 2010
Best nurture marketing email ever?
Got this yesterday from Eloqua. Was very impressed with the whole approach, the copy, the respect built in, the value-add at the end. Take a look and let me know what you think (reprinted with permission).
Subject Line:
I'm afraid you don't qualify
Matt,
I noticed that you signed up for Eloqua's webinar on targeting & segmentation back in mid-March. Time flies, huh?
I'm following up to ask what prompted you to register for this event? Is Heinz Marketing LLC considering marketing automation to help solve the challenges discussed in the webinar?
Here's why I ask: I run marketing programs for Eloqua and I see that our lead scoring system didn't pass you on to our sales team for a follow-up call. It may have been your title (General Management - Chairman, CEO, President, Partner, Owner ) or industry (Business Services ), or because of non-activity. So, I thought I'd reach out and just ask.
If you or your colleagues are considering marketing automation, let me know and I'll connect you with a salesperson to better understand your challenges and map out some potential solutions. If not, no harm done - please continue to enjoy our free resources and toolkits! In fact, here is some additional information on targeting & segmentation that you might find helpful.
Thanks,
Jim
Wednesday, June 09, 2010
Who makes up your braintrust?
If you don't have one, you need one.
You need people close to you - who know you, your strengths and weaknesses well - who can be a sounding board for your ideas, who can be a source of new perspectives you can't see from your own perspective.
You need people smarter than you, with different backgrounds and experiences. People who will see things differently but still filtered through the professional and personal goals & objectives most important to achieving success in your business, life and career.
Your braintrust needs to be a constant source of ideas, feedback and accountability. Ideas are great, but nothing happens unless there's a next step. A deadline. A reminder or gentle nudge to get it done. Your braintrust can provide both ends - the ideas, the inspiration, and the forced discipline to triage, prioritize and execute.
You probably already have a braintrust. If you take a couple seconds, you could probably list the people you use for these functions already. And I bet they'd jump at the chance to help you more than you're using them today.
This doesn't have to be a formal thing. But if you organized this concept and those in your braintrust just a little more, I expect you'll see an exponential jump in value and results.
Thursday, June 03, 2010
Branding Basics for Small Business: Q&A with author Maria Ross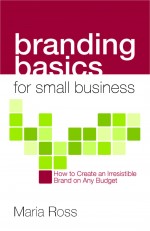 I've read a lot of material over the years focused on teaching brand strategy. Unfortunately, too much of it is dense, theoretical, and not easily applicable by the typical business owner (or marketing manager for that matter).
Maria Ross
has changed that with her new book
Branding Basics for Small Business
. It's an exceptional read, taking core brand strategy concepts and translating them into practical, actionable tools & recommendations that apply to businesses big and small.
Here's a bit more about the book, and brand strategy in general, from my conversation with Maria.
Q: There are so many books and resources about brand, how is this book different? What was the message and takeaway you wanted to create here?
A:
There are indeed many books out there about brand. My question is then why are so many businesses still not getting it?! Seriously, though, I wanted to take brand from being an esoteric concept to a practical, strategic weapon that not only impacts your bottom line but makes business and marketing decisions much, much easier. People don't realize that their brand strategy is a guide that will save them money, focus them on the right investments and partnerships, and enable them to speak more clearly to customers in a way they want to hear.
I also wanted to show small businesses that "good branding" is not just the domain of big companies with huge budgets. Brand is really a strategy and anyone, big or small, can employ that strategy. At its simplest level, the process in the book is merely ten steps: that should be doable enough for anyone regardless of budget or size.
Q: How has the idea, strategy and priority of brand changed (if it has) as the influence of Web, mobile and social marketing increases?
A:
I think that's the foundation of my book, that brand has not changed, the fundamentals are still there. We just have more ways of expressing that brand in today's world; ways that are much more interactive and immediate, but those new technologies are merely vehicles used to express the brand and better connect with customers. That has never changed. Back in the Mad Men days, we only had print ad, radio ads or brochures to convey our brand. Social media and new technologies have merely broadened our options for brand communication. But you still have to have something clear, consistent and compelling to communicate. That will never change.
Q: How does effective brand strategy & management improve a company's ability to attract prospects and close business?
A:
The better your know who you are and what you stand for, the more clearly and consistently you can convey that message to the market and attract the right people. If you take a scattershot approach, not grounded in any "truths," then your messaging is all over the board. And that just means your customers are confused. It also means every time they interact with your brand, they are seeing a new message: that doesn't help with following the old marketing axiom of delivering a consistent message to someone 5-7 times before it sticks. If that brand promise is different - if the message is different -each and every time, you're always starting from Square One.
There is no way you can generate awareness and retention that then moves a prospect down the sales process to close if you're always starting over with them. Similarly, if your brand promise in advertising is, say, great customer service, but the company as a whole does not live, eat and breathe that brand promise, what do you think the prospect's experience is going to be like when dealing with sales or calling customer service? Brand aligns the entire business around one clear mission in order to make sales and garner customer loyalty. Period.
Q: Many early-stage and small businesses have to figure out how to balance brand with sales and demand-driven marketing. How do companies (especially smaller & younger ones) get that balance right?
A:
Brand is not mutually exclusive of sales or demand-driven marketing. Brand is your company's reputation and the perception customers have of you, so that means brand informs your sales and lead generation efforts. Those efforts need to be grounded in a strong brand foundation if you want them to work. So in my mind there is no "balance" per se; there is only necessity. You have to attract a prospect before you can close them, right? You wouldn't propose on the first date, yet small companies (B2B especially) think they can just run a single lead gen direct marketing campaign with no other brand messaging out there and – POOF – sales will fall out the other side. Doesn't work that way.
Effective branding gives you the "air cover" you need to ensure your direct marketing efforts work more effectively with a better ROI. You have to earn the right to invade a prospect's email inbox or make a cold call. A brand promise and familiarity opens that door. It starts the sales process in the Awareness phase and carries though the entire sales cycle. Brand strategy is about intentionally thinking through and clarifying your customer promise, your target audience, your benefits, and what you want to represent to the world. That is how you hook a prospect's interest. And then ensuring that brand experience is consistent at every step of the sale cycle moves them further along to purchase.
If you put this thinking in up front, then when you do spend money on sales and lead generation, it will work more effectively and you'll get better ROI then if you just show up and expect a sale. You have to earn that trust, and brand helps you do that. Once the strategy is in place, then you can consider how much budget you want to spend on executing that message and on what tactics. But at least this way, any execution you can afford to do is targeted, focused and consistent. And that saves money in the long run, not to mention gets you a better ROI on your lead gen efforts.
Q: What are the 2-3 things every business should take away (from the book and this interview) as a brand-related action item they can work on immediately for their business
?
A:
I would say the two biggest points are really defining your target customer segments in as much detail as possible and carefully putting together a messaging matrix focused on benefits, not just features. To the first point, many small businesses go too broad in trying to appeal to a large segment, mostly because they are afraid to leave money on the table. But a target segment of "women between the ages of 25 and 50" really doesn't help you focus your investments or create compelling messaging. A 26-year old single graphic designer in L.A. may have very different needs than a 48-year old housewife with four kids in Iowa City.
So you really need to flesh out your customer in as much detail as possible so you have something real to shoot for: who are they, where do they live, what do they like to do, where do they work, what magazines do they read, where do they get their information, etc.? Doesn't mean you won't sell to someone outside of that "ideal" range if they come calling. It just means you will focus your efforts, dollars and core messages to someone "real" and therefore stand a better chance of connecting in a more relevant way.
To the second point, too many businesses think they are touting benefits when they are really just touting features. To that, a customer may say, "So what? Why should I care that you won all those awards or provide all of those services? What is the benefit to me?" Customers are selfish and we need to talk about what is in it for them. Don't brag about how big you are; talk to your customer about how your size and reach enables them to get the best cost for the product, thus saving them money.
Audit your brand messaging across all your channels: If your benefit statements all start with "We provide…" or "We offer…" those are just features or capabilities. They are about how you sell. But customers want to hear about what they get. True benefits are written from the customer point of view: "As a customer, I save money….I increase profits.." or whatever the case may be.